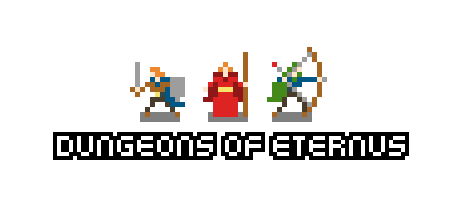 Dungeons of Eternus
Dungeons of Eternus is a procedurally generated action-RPG adventure with heavy roguelike elements. Suit up as a mercenary soldier sent to the town of Easthaven in search of the lost Amulet of Eternus. Slay enemies, recruit allies, and acquire tons of glorious loot as you dive deeper into the darkest of dungeons.
Inspired by: Diablo, Path of Exile, and Shining Soul.
================================================
Roguelite Action – Dynamically-generated 2D sandbox set in the familiar dungeon-crawling territory. Explore randomly generated caverns and dive deeper into the darkness to discover valuable resources and slay challenging enemies.
18 Diverse Classes – Choose from a wide-variety of dynamically generated fantasy character classes ranging from noble Rangers to battle-hardened Barbarians.
Dozens of Enemies – Hordes of creatures and epic bosses ranging from legions of skeletons and foul beasts, and even crazier horrors such as the ever-daunting reaper of darkness.
Thousands of Items – Ranging from stat boosting battle weapons to quirky perks, equip yourself with upgrades and customize your play style with unique gear found in the dark depths.
Continual Support – The game is currently in Pre-Alpha, and there will be regular updates that will introduce fresh new content and mechanics!
================================================